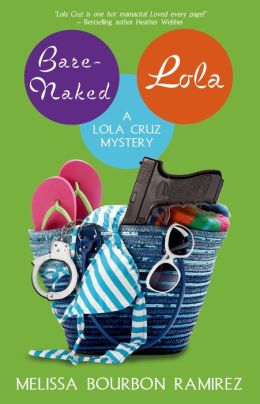 Author: Melissa Bourbon Ramirez
Publisher: Entangle Publishing
Released: May, 2012
Source:
Netgalley
Genre: Mystery, Suspense, Contemporary Romance
Blurb: Meet Dolores 'Lola' Cruz.
Going undercover is second nature for Private Investigator Lola Cruz, but she's out of her league when the case of a murdered Royals Courtside Dancer leads her to a local nudist resort. Parading around the sidelines of Sacramento's professional basketball scene in a barely-there cheerleading outfit is one thing—but parading around in nothing but a smile?

If she has any chance of hiding this from her traditional family and on-again/off-again boyfriend Jack, she's going to have to keep a lot more than her duct tape bra and killer dance moves under wraps….
My Thoughts: Someone is targeting the Royal Courtside Dancers and it's up to Private Investigator, Lola Cruz, to find out who it is. Little does she know, it will require her to wear a skimpy cheerleading outfit. Or nothing at all.
Lola is a strong Latina heroine (she has a black belt in martial arts) who is smart, fun, and feisty, but also vulnerable at times. She works hard to prove herself as a private investigator - much to her protective family's chagrin. She's good at what she does. But she's not without troubles. The situations Lola finds herself in as she tries to solve this case - from having to wear next to nothing, while dancing in front of thousands (and trying to keep it from her traditional Catholic family) to deciding whether she'll bare all at a nudist resort - adds humor to the book. The romance between Lola and Jack Callaghan, her sometimes boyfriend is just right. The sexual tension is there, but it isn't overwhelming. Although Jack is protective of Lola, he sees her as his equal. He has faith in her ability as a P.I. He wants her and is crazy about her, but he's dealing with an issue from his past. Also, the book hints at a possible attraction Lola's boss, Manny, has for her.
Let me say that I LOVE this series. I love everything about it from the storylines to the characters. Lola is, by far, my favorite character, but even the secondary characters make the book interesting. Each book can also be a stand-alone. A reader can read book three and not feel left out or confused. But I recommend reading the whole series. If you're looking for a fun mystery with the right amount of suspense and romance, I definitely recommend Bare-Naked Lola. I am (im)patiently waiting for book #4!